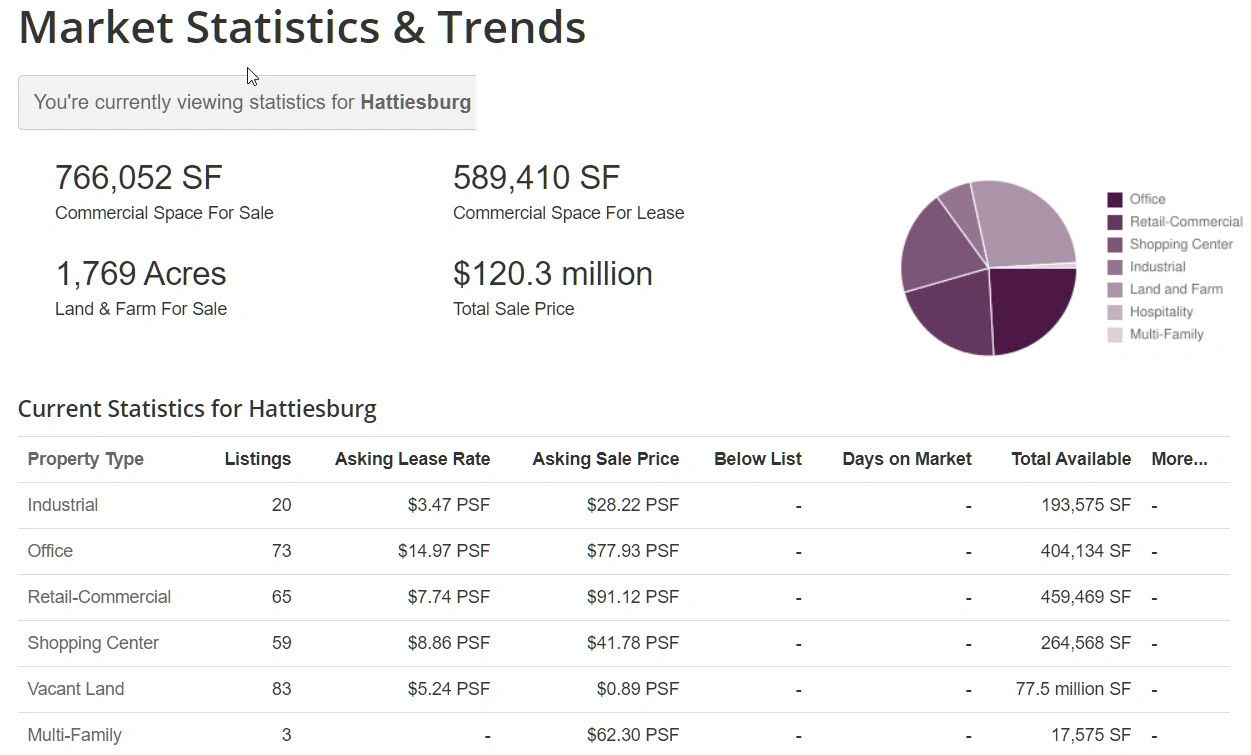 This article examines the current prices of the major categories of commercial property in the Hattiesburg MSA, including industrial warehouses, office space, retail stores, shopping centers and vacant land.
The total Hattiesburg market is 1.3 million square feet of space, with 589,410 square feet for lease and 766,052 square feet for sale.
---
Office Market
There are 73 office properties in the Hattiesburg MSA market, with 48 for lease averaging $14.97/SF and 25 for sale averaging $77.93/SF, with the average property on the market for 485 days. Over the last 9 months, supply of office space for lease has increased from 145,000 square feet to 177,000 square feet currently. The result of the increased supply has been a decrease in the average asking lease rate from $15.71/SF to $14.97/SF, and the actual lease execution rate decreasing from $11.01/SF to $10.04/SF.
There are 25 office buildings for sale totaling 226,000 SF at an average price of $78/SF, increasing over the past 9 months from 16 properties totaling 167,000 SF at an average sale price of $59/SF. The additional supply with higher prices is contrary to economics, but is a result of better properties coming on the market listed at a higher price which skews the average.
---
Retail Market

There are 65 retail properties in the Hattiesburg MSA market, with 36 for lease totaling 197,860 SF averaging $7.74/SF and 29 for sale totaling 261,609 SF averaging $91.12/SF. The average property takes 152 days to lease or sell.
---
Shopping Center Market

There are 59 shopping center properties in the Hattiesburg MSA market, with 55 for lease totaling 113,400 SF averaging $8.86 and 4 for sale totaling 151,268 SF averaging $41.78/SF. Over the last 9 months, shopping center prices for lease plummeted 30% from $11.51/SF but sale prices increased 25% from $33.16/SF. Overall, as lease rates fall, sale prices must also fall by the same percentage or more, depending on fixed costs.
---
Hattiesburg Vacant Land Market
There are 83 vacant land listings in the Hattiesburg MSA, with 9 for lease totaling 402,455 SF at an average price of $5.24/SF and 74 listings for sale totaling 77 million square feet averaging 89 cents per square foot. The vacant land market has remained unchanged the last 9 months. Vacant land averages 354 days to find a buyer. The average price of vacant land for all 600 listings in Mississippi is $2.55/SF and the average sale price is $1.13/SF.